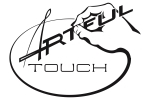 Bellevue College
Welcome Bellevue College students!
UPDATE: 9/13/2021 FALL QUARTER - 2021
KITS will be Available for Online Ordering SOON! (please check back regularly)
We expect to have the kits ready for ordering approximately 1 week before your classes start.
All items are currently in-stock and we are in the process of preparing the packages now.
Thanks Again From Your friends at An Artful Touch!