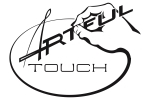 Everett Community College
Everett Community College
Welcome Everett Community College students!
UPDATE: 3/29/2022 SPRING QUARTER - 2022
KITS will be Available for Online Ordering by THURSDAY 3/31/2022! (please check back regularly)
All items are currently in-stock and we are in the process of preparing the packages now.

All Kits at Everett Community College qualify for FREE DELIVERY TO YOUR CLASSROOM (choose option at checkout after entering your home address on the checkout page).
Thanks Again From Your friends at An Artful Touch!