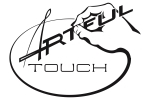 North Seattle College
Welcome North Seattle College Students!
UPDATE:9/13/2021 FALL QUARTER - 2021
We have not formally coordinated class-specific kits with teachers at North Seattle College this quarter, but we DO carry most all of the products your classes may require!
Please stop in our store at the Totem Lake West shopping center (across from McDonald's, downstairs from Romio's Pizza & Pasta) to let us help you fulfill your class's supply list for this coming quarter!
We look forward to developing a relationship with the teacher's at North Seattle College in the near future where we can be better prepared to carry 100% of the products you'll need for your future classes. In the meantime, our class products for North Seattle College will be available on a first-come-first-serve basis!
Thanks Again From Your friends at An Artful Touch!